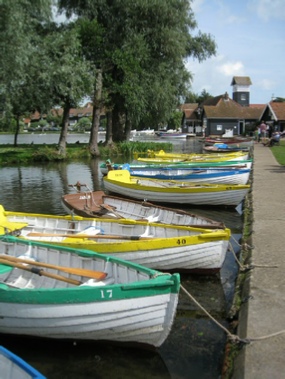 The village was originally a small fishing hamlet in the late 19th century. In 1910 Glencairn Stuart Ogilvie, a Scottish barrister who had made his money designing railways around the world, bought the entire area from north of Aldeburgh to past Sizewell, up the coast and inland to Aldringham and Leiston. Most of this land was used for farming but Ogilvie developed Thorpeness into a private fantasy holiday village which we can still see today. A country club with tennis courts and a swimming pool opened in May 2012, a golf course and clubhouse and many holiday homes were built in Jacobean and Tudor styles.
Whimsical Architectural Fantasy
To hide a water tower in the village, the tank was clad in wood to make it look like a small house on top of a 5-storey tower, with a separate water-pumping windmill next to it. "The House in the Clouds" became redundant after mains water reached the village and is now available for rent. The old tank is now a huge games room with views over the land from Aldeburgh to Sizewell.
The tradition of architectural fantasy continues with the Dune House. Completed in 2011 the house has a bath in each of the four very irregular bedrooms but has superb views across the dunes towards the sea.
Thorpeness is probably best known by visitors to the heritage coast for The Meare. It was created with many of its inspirations coming from one of Ogilvie's friend's, J. M. Barrie's work 'Peter Pan'. Besides a large main pond, there are several channels with tiny islands on the Meare named after locations in J. M. Barrie's novel such as the pirates lair and Wendy's home.
You can rent a variety of boats from punts to dinghies and it's quite safe as the Meare is only a few feet deep. In August the Thorpeness Regatta takes place around the same time as the Aldeburgh Carnival followed by a grand fireworks display.
Thorpeness Today
The beauty of Thorpeness is that it is a quiet village where little of note happens -- except perhaps for coastal erosion affecting houses on North End Avenue. Meanwhile the string of houses on the top of the dunes towards Aldeburgh seem to get further and further away from the sea; no doubt as a byproduct of the erosion suffered by their unfortunate neighbours to the north.
Owing perhaps to its unusual history, Thorpeness was voted 'the Weirdest Village in England' by 'Bizarre' magazine in 2003 ... indeed!